Head Professional, Jonathan Field and his team, would like to welcome you to the Professional Shop at West Byfleet Golf Club. The Professional Shop offers a wide range of goods and services. We specialise in ladies clothing, golf equipment, electric trolleys and their repairs and servicing.
Jonathan Field - Head PGA Professional
I Joined West Byfleet Golf Club in 2001 and qualified for full membership of the PGA in 2007. Since then I have developed a real following and increased the profile of lessons within the club.
To date, I have set up and run a number of groups for junior players and teaches both adult and juniors on a daily basis. I was also selected to coach young members up to Surrey National level and a coaching programme for the ladies Pearson team. I was selected by Nike to attend their PGA Championship Golf School held at Wentworth on 4 separate occasions!
I have invested in my own computer analysis equipment as I care passionately about the improvement of each and every pupil. I like to keep my hand in on the playing side too, with my best playing finish 6th place in a Southern pros event as well as many top ten finishes.
---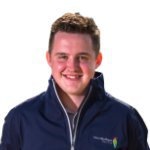 Nick Peters - Assistant Professional
I have been the Assistant Professional here at West Byfleet Golf Club for the past 2 years. I am currently in the final year of my PGA degree. I have had a passion for golf since the age of 2 which is when I first started to play golf. I then went on to gain a scholarship at The Wentworth Club and subsequently played for both my county and Country. I currently teach junior Surrey County players and also many of the West Byfleet Golf Club adult members. I like to teach from the basics up. It has been proven time and time again...get your basics right and the rest follows. I believe that we should enjoy the game of golf and my aim is to pass on the skills, knowledge and enjoyment that I have learnt from the game. A game that I have grown up with and love playing.
---